» Wednesday, 19 August, 2015
To Rio!
The Australian Opals have qualified for the Rio 2016 Olympics with a series sweep of New Zealand. Led by captain Laura Hodges, the Opals claimed the 2015 FIBA Oceania Championship title with a 61-41 victory in Melbourne, followed by an 80-62 victory in Game 2 in Tauranga.
» Friday, 3 July, 2015
LJ15 Elites Sold Out!
Thank you to everyone who has shown an interest and registered for the upcoming LJ15 Elites camp. All spots have been taken and the July camp is sold out! See you there!
» Sunday, 22 February, 2015
Join the LJ15 Elites
Update: April camp has finished! Be the best athlete you can be, learn skills for life, indulge yourself in sport… all at the LJ15 Elites Camp, April 9-10 at Scots School Albury. Athletes from 10-17 years of age, of any skill level, can take part in an intensive 2 day camp and better their basketball skills by learning from the best. Learn more »
» Sunday, 25 January, 2015
Double Road Win
Within the space of 24 hours, the UC Capitals secured two road victories to push their way into the top four. In Bendigo, the Caps produced a stunning fight-back to win the game 73-70 after trailing by 14 points with just 8 minutes remaining. Kristen Veal knocked down some timely three pointers to help lift the team to their first win of the round. The second game of a back-to-back was a 74-66 win over the Melbourne Boomers. In form all season, Captain Abby Bishop dominated the game with 36 points and 14 boards. Lauren backed up with 6 points, 8 boards and 3 assists against the Boomers after 17 points and 9 boards the previous night.
MichelleCoulingPhoto
@MCP_pix
The @CanberraCaps go home smiling after a huge 2-0 road w/e, getting wins vs @MelbourneBoomer & @BendigoSpirit #WNBL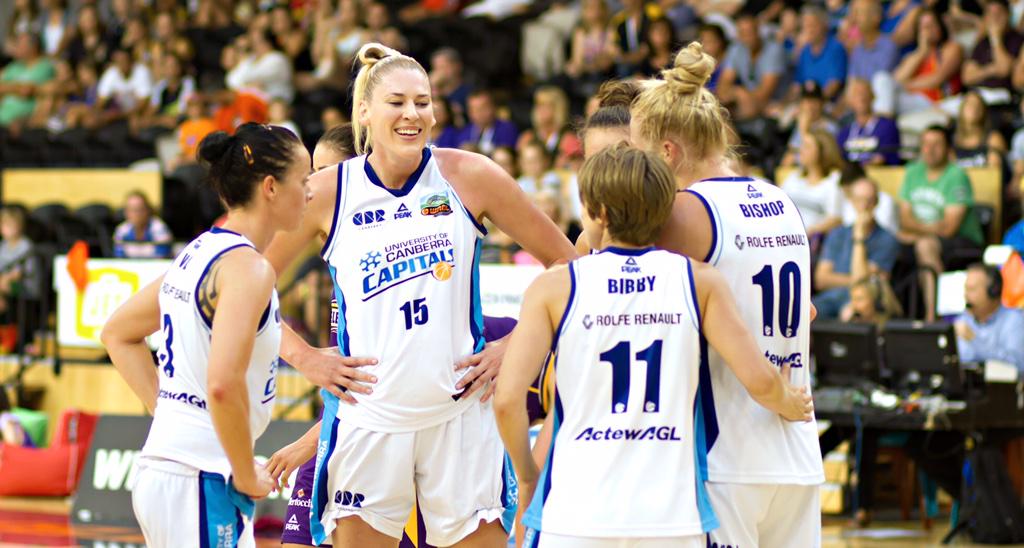 11:09 PM - 23 Jan 2015
Reply
Retweet
» Thursday, 15 January, 2015
UC Capitals v Sydney Uni
The UC Caps have secured an important win over the Sydney Uni Flames, 69-66. The highly contested battle saw both teams in contention in the final quarter with the Caps narrowly holding on down the stretch to defend their home court. Abby Bishop combined with Lauren in the post for 19 points apiece to pace the Capitals. Improving with each game, Lauren also pulled in 14 boards and blocked three shots.
- WNBL Recap | Boxscore
» Sunday, 4 January, 2015
UC Capitals v Dandenong Rangers
A showcase of Aussie talent saw Penny Taylor lead the Dandenong Jayco Rangers to a narrow 89-84 win over the UC Capitals. Basketball fans in Canberra were treated to Taylor's return to the AIS Arena as she piled on 30 points at 81% from the field to go with 7 boards and 3 blocks.
Despite the best efforts of Abby Bishop (34 points, 11 boards), the Capitals are now a couple of games outside the top four. Lauren added 10 points and 8 boards in her second game back in action, whilst Jess Bibby became the most prolific three-point shooter in WNBL history with her 538th career triple to surpass Opals legend Michele Timms.
- WNBL Recap | Boxscore
» Saturday, 20 December, 2014
Adelaide Lightning v UC Capitals
The UC Capitals have scored a 73-70 road victory against the Adelaide Lightning in Lauren Jackson's return to the court. Lauren came off the bench mid-way through the first quarter and in her limited minutes, finished the game with 13 points, 5 boards and 2 assists. Abby Bishop, as she has done all season, led the team with 33 points and 8 boards.
It was Kristen Veal's 350th game, Lauren's first professional game in 11 months, and her first WNBL game since March 2010. Fourteen years ago the spritely duo, fresh out of the AIS, led the Capitals to the 1999/00 WNBL Championship against Adelaide on the same court. At the time, Abby Bishop was just 11 years old.
Somewhat fitting of the occasion, but perhaps more importantly for the Caps' finals hopes, the win over Adelaide keeps them in touch with the top four.
» Friday, 19 December, 2014
Game Day
Adelaide Lightning v UC Capitals. Adelaide Arena. 5pm local, 5.30pm AEDT.
Be there or follow the live stats.
» Sunday, 7 December, 2014
Canberra Capitals Back Together #WNBL
» Friday, 31 October, 2014
Caps v Rangers
The WNBL season is heading into Round 3 and the UC Capitals are looking for their first win at home this weekend against the Dandenong Rangers. Head down to the AIS Arena for the 3pm tip-off on Saturday Nov 1, or catch the action live on ABC. Whilst both sides are coming off losses and have been under-manned to start the season with key players still to join their teams, the likes of Abby Bishop and Cappie Pondexter are sure to entertain. The UC Caps will be playing without Lauren; Hanna Zavecz is also sidelined following knee surgery.
In a huge coup for the WNBL, Opals Captain Penny Taylor has signed with the Jayco Dandenong Rangers for the remainder of the 2014/15 season. The two-time WNBL MVP, three-time WNBA Champion and all-everything superstar is expected to play her first game next week after twelve years away from the Australian domestic league.
» Monday, 6 October, 2014
Bronzed Aussies
Congratulations to the Australian Jayco Opals, bronze medallists at the 2014 FIBA World Championships! The Opals defeated Turkey 74-44 to claim bronze and capped an outstanding campaign from all players and staff involved with the Australian team. Opals captain Penny Taylor was also rewarded with a place in the All-Star Five.
The ABC provided great coverage of the World Championships on free-to-air television and the Opals' full games are still available on iview for Australian viewers.
» Friday, 5 September, 2014
An update from Lauren
Hi there all,
Just thought I would update you and thank everyone for your kind messages and support.
I have a wonderful support group through family and friends plus my twitter community.
My rehab program on my knee has been progressing well, I've worked long and hard but I have just run out of time to be able to play for the Opals in the upcoming Worlds and get through a full program of matches. I'm so disappointed that I will not be joining my Opals buddies in Turkey for the championships.
I have also had a hip problem which has been getting progressively worse and after scans confirming the problem I elected to have surgery now rather than later.
I'm out of hospital and home resting up.....will be on crutches yet again!
As soon as I can, I will be back at the AIS on rehab and really looking forward to being on court again and playing for the Caps this coming season as soon as possible.
Thanks again for all of your support.... can't get through this stuff without you.
Take care
Lauren x
» Tuesday, 2 September, 2014
Lauren out of World Championships
Lauren has unfortunately had to withdraw from the 2014 World Championships campaign of the Australian Jayco Opals. "I've worked so hard on my rehab program and my knee injury has actually progressed well – sadly, just not enough to compete at Worlds. Put simply, we just ran out of time," Jackson said.
With her knee requiring another 8-12 weeks of rehab, medical advice has also recommended Lauren undergo surgery on her hip.
"After scans this week the medical advice was to operate today. I'll be back with the great, supportive team at the AIS in just 2 weeks and preparing to play for the University of Canberra Capitals in November.
"I can't wait to be finally back on court – I'm actually fit and strong so the hard work will not be lost."
For more, read the full Basketball Australia media release.
» Saturday, 19 July, 2014
New Sporting Commons
Earlier this week, the University of Canberra launched its new $16 million Sporting Commons facility. With the goal of becoming Australia's leading sports university, the partnership between the ACT Government, the University of Canberra and ACTSport ensures Canberra is at the forefront of development and innovation in sport.
Lauren Jackson and the University of Canberra Capitals will train out of the high performance centre this upcoming WNBL season. Rugby Union star David Pocock and the Brumbies already train at the facility.
» Saturday, 17 May, 2014
University of Canberra Capitals
A new era for Capitals basketball has begun as the University of Canberra will be the new home of the WNBL team. The University of Canberra Capitals will continue to be coached by Carrie Graf and rising star Steph Talbot has been signed for the 2014/15 season.
This exciting new phase "will enable Capitals players to establish flexible working, living and studying arrangements through the University so that they are able to have a stronger focus on basketball while at the same time preparing for life after basketball". Read more >

Lauren Jackson
@laurenej15
» Sunday, 11 May, 2014
Double Celebrations
Twice the reason to celebrate today: Happy Birthday Lauren and to all the mothers, Happy Mother's Day!
» Thursday, 27 March, 2014
Opals Camp
The Jayco Australia Opals squad has assembled in Canberra this week for one of the training camps leading up to the World Championships in September. Recovering from her surgery, Lauren is with the squad at the AIS and has also been involved off the court in her role as ambassador for the AASC program to help inspire children to keep active.
Amongst the diverse squad of experienced internationals and young talent on display at the Opals camp is the much-welcomed return of Penny Taylor. The 2006 World Championships MVP was forced to miss the 2012 Olympics due to injury and the international superstar has already been impressed by the young talent vying for Opals selection. The Opals have been drawn in Group C alongside Belarus, South Korea and Cuba for the preliminary round of the World Championships in Turkey.
» Saturday, 1 March, 2014
UN role for Lauren
Lauren has a new role as Champion for the UN Women National Committee Australia! The role gives her the opportunity to continue her passion promoting gender equality amongst Australians and around the world. She joins Aussie actress Nicole da Silva as fellow Champion.
How will you celebrate International Women's Day? Check out the UN Women website for any IWD events in your area.
» Tuesday, 11 February, 2014
An update from Lauren
Hi There!
Well I'm back…not quite the way I expected but very happy to be back in OZ!
China was culturally challenging, and ohhhhh how I missed the Australian Summer and my beloved barbeques! Not a lot of red meat for an aussie country girl like me to be found in China! Harbin City where I was based was just freezing.....minus 20 or 30 sometimes! So to get the last month of summer in Australia is soooooo good.
My team Heilongjiang Shenda went 11 – 11 for the regular season and we made the playoffs. Unfortunately I suffered a knee injury in December which progressively got worse. Halfway through the second round things deteriorated and I started getting very sharp pain, then the inevitable happened and I had to make a decision to stop as I could not run. I offered to stay and support my team mates in the playoffs, who were all such beautiful girls but the team management said I could head back to Melbourne and get it fixed. I jetted in on Sunday and had surgery last night (Monday). I'm pleased as David Young my surgeon is telling me that both operations on my Achilles and Knee went well and he expects I will make a full recovery. My knee injury was found to be a lateral meniscus tear and was torn off the bone, which was upsetting to hear because it is a long recovery time. But he assures me that my joints are wonderful and he expects me to play till I'm 40.
I just now need to rest and recover and do some rehab.
Great to be back even though I'm going to be hobbling around for a while!
Take care.
Love Lauren x